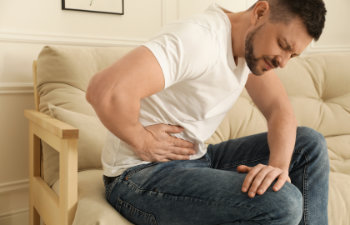 If you've been experiencing unexplained groin pain or recurrent discomfort in the pelvic area, it's crucial to seek medical attention. These symptoms could be attributed to various underlying medical conditions. One such condition is known as an occult hernia or hidden hernia.
At Core Surgical in New York, our team of hernia specialists is well-equipped to provide expert diagnosis and minimally invasive treatment options. We cater to individuals suffering from unexplained groin or pelvic pain in NYC. Our diagnostic processes can detect the presence of an occult hernia, a condition that often eludes routine physical examinations.
Understanding Occult Hernia
An inguinal hernia describes when a part of the intestine pushes through a compromised area in the abdominal wall. This condition is typically a result of increased intra-abdominal pressure caused by activities like straining or carrying excess weight.
However, an occult hernia, also referred to as an occult inguinal hernia, presents a unique challenge. It's an undetectable mass of herniated tissue that cannot be discovered through a physical examination or even with the help of an ultrasound.
These occult hernias are noteworthy because they can cause significant groin or pelvic pain. Yet, their small size makes them elusive and challenging to diagnose. Given that these symptoms can overlap with those of several other medical conditions, medical professionals need to conduct a comprehensive examination, which includes various testing methods to pinpoint the presence of an occult inguinal hernia.
Accurate Diagnosis and Treatment in New York
At Core Surgical, our board-certified surgical specialists are well-versed in the nuances of occult hernias. We employ advanced imaging tools to aid in diagnosis. Our approach includes ultrasound, CT scans, and MRI technology. In some instances, an occult hernia may only be positively identified through a laparoscopic procedure, which can then aid in correcting the issue.
When you experience persistent, unexplained groin or pelvic pain in New York, you can place your trust in the expertise of our specialists at Core Surgical. Our team is passionate about diagnosing and treating hernias, and we have the necessary tools and knowledge to locate and provide relief for occult inguinal hernias.
Schedule an Appointment
If you or a family member are dealing with unexplained groin or pelvic pain, don't hesitate to contact Core Surgical. We're conveniently located on East 58th Street in Midtown Manhattan and are committed to providing top-notch care.
Unexplained groin pain or discomfort may indicate a concerning health condition. Without medical intervention, you may suffer from further debilitating symptoms. Help is available in NYC from the experts at Core Surgical.
Contact our office today to schedule an appointment, and let us help you on your journey to recovery. Your well-being is our priority, and we're here to guide you through the process of identifying and addressing occult hernias to help you regain your quality of life.
Posted on behalf of CORE SURGICAL
133 E 58th St Suite 703
New York, NY 10022
Phone: (212) 628-8771
Email: frontdesk@coresurgicalmd.com
Monday - Thursday: 9:00AM to 5:00PM
Friday: 9:00AM to 4:00PM
Saturday - Sunday: Closed