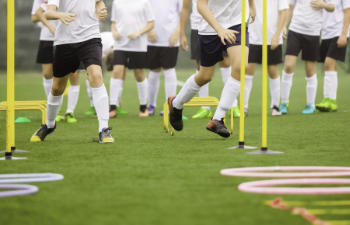 Having your child take part in athletics is important. We've all heard about the health, psychological, and social benefits. As a surgeon who takes care of a good many teens with sports injuries, I have an insight into one aspect of the young athlete and it is advice I dispense frequently: Have your child play more than one sport.
When I grew up, the concept of a single sport, all year round, was almost unheard of. The majority of us, even the one's who were ranked players in one sport, played other sports depending on the season. Quite frequently, our star baseball pitcher was also the quarterback, or our nationally ranked tennis player was also a track hurdler. Today, this appears less and less so. High level lacrosse players seem to be playing throughout the year, even attending intensive clinics and tournaments in the off-season. This is true, it appears, for just about every sport.
But is this a good thing? Yes, the child might develop skills in the sport quicker, but at what cost? Consider this: children, unlike adults, are growing. Their bones are elongating, and their tendons are existing in a "stretched" configuration. If they play only one sport, they will be taxing the same joints, ligaments and muscles, the same way, over and over, time and again. Further, overuse injuries are being seen by more and more professionals, at younger and younger ages.
Additionally, other aspects such as "burn-out," all around skills development, and overall happiness should be considered. Weigh all of the aspects up, and I think, in most cases, the thoughtful parent will at least consider multiple sports for their child.
Posted on behalf of CORE SURGICAL
133 E 58th St Suite 703
New York, NY 10022
Phone: (212) 628-8771
Email: frontdesk@coresurgicalmd.com
Monday - Thursday: 9:00AM to 5:00PM
Friday: 9:00AM to 4:00PM
Saturday - Sunday: Closed