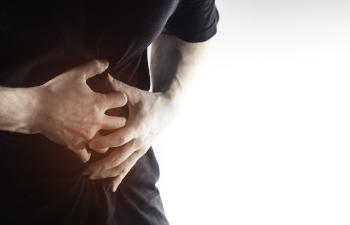 Did you know your belly button can be a point of weakness in your abdominal wall? When this weakness occurs, part of your intestine can slip between the opening in the abdominal muscles. This is called an umbilical hernia. There are different treatments, depending on the severity of the hernia and your lifestyle factors. It is important to see a hernia specialist for an accurate diagnosis and a medically supervised treatment plan.
Symptoms of an Umbilical Hernia
Umbilical hernias are more common in women, especially during pregnancy. Children, adults over the age of 60 and anyone who is overweight are also at risk. You may see a bulge near your belly button, and it may get bigger when you lift something, cough or use the bathroom. Although they are often painless, the hernia may be tender to the touch. If the intestines are involved, you may have nausea or constipation.
If you experience the following symptoms, seek emergency medical care:
The hernia changes color.

You begin vomiting.

You develop sudden abdominal or hernia pains.

The hernia suddenly gets bigger.

You stop going to the bathroom, or you can't pass gas.
Caring for Your Umbilical Hernia
A qualified hernia specialist can discuss the best treatment options with you. As part of a whole-body approach, you can take the following precautions:
Increase your fluid intake

. The extra liquid can prevent constipation. Constipation can make your hernia worse.

Switch to higher fiber foods

. Fruits, vegetables and whole grains also help reduce constipation. Consult your doctor about increasing your fiber to the daily recommended amount.

Don't lift anything heavy

. This puts pressure on the abdominal wall, which could make the hernia worse.

Avoid self-treatment

. The internet is full of inaccurate hernia remedies. Never try to push your hernia back in. You must see a doctor for proper treatment.
Umbilical Hernia Treatment in New York
To prevent complications or permanent damage, it is important to have an umbilical hernia examined and treated properly. The Core Surgical Team are experts in all types of hernia treatment and repair. Contact the clinic today for your consultation.
Posted on behalf of CORE SURGICAL
133 E 58th St Suite 703
New York, NY 10022
Phone: (212) 628-8771
Email: frontdesk@coresurgicalmd.com
Monday - Thursday: 9:00AM to 5:00PM
Friday: 9:00AM to 4:00PM
Saturday - Sunday: Closed