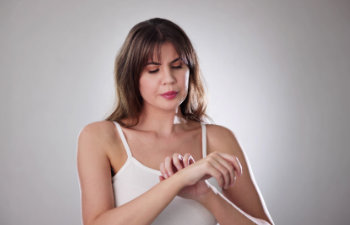 Summer is a time for fun in the sun but it can also bring unpleasant side effects. Spending more time outdoors in sports, hiking, swimming or other pursuits can be exhilarating – until unexplained pain puts on the brakes. Are you experiencing sudden or worsening pain in your wrist, shoulder, neck back or other areas?
One possible culprit could be nerve compression, which can cause pain and discomfort lasting weeks or even months. Nerve compression occurs when a nerve is pinched or compressed, leading to pain, numbness and weakness in the affected area.
What Can Cause Nerve Compression?
Many different things can cause nerve compression in the summer. Some of the most common include spending too much time sitting or standing in one position or carrying heavy bags or backpacks. A frequent cause of nerve compression is participating in repetitive activities like favored summertime pastimes of baseball, softball, tennis, golf and swimming. Other factors contributing to nerve compression include poor posture, wearing tight clothing or footwear and being overweight or obese.
Even though nerve compression can be incredibly painful, many people are unaware of the symptoms and how to treat it. The pain can come and go or radiate into various body areas, leading to confusion about possible causes or problems. Some of the most common symptoms of nerve compression include:
Pain or discomfort that grows worse over time
Numbness or tingling in the affected area
Weakness or loss of muscle control
Redness and swelling
Inflammation
Difficulty performing specific movements
The good news is that many different treatments are available for nerve compression, ranging from physical therapy and chiropractic care to medication and surgery.
NYC Nerve Compression Treatment
If you are experiencing pain or discomfort this summer and suspect it may be due to nerve compression, it is crucial to seek medical attention immediately. The specialists at Core Surgical in NYC can help you identify the underlying cause of your symptoms and recommend a treatment tailored to your needs. You can manage or eliminate your nerve compression symptoms with the proper treatment and enjoy a pain-free summer.
Treatments can include medication to reduce inflammation and pain, physical therapy and minimally invasive laparoscopic surgery to relieve the compression on the nerve from muscles, ligaments, joints or other causes.
Nerve compression can be a real pain (literally), but it doesn't have to ruin your summer. By being aware of the symptoms and getting prompt medical attention, you can get the treatment you need to manage your symptoms and get back to enjoying all the fun that summer has to offer.
Reach out to Core Surgical in New York City today to learn more about what can cause nerve compression and the possible ways to get relief and restore your freedom of mobility.
Posted on behalf of CORE SURGICAL
133 E 58th St Suite 703
New York, NY 10022
Phone: (212) 628-8771
Email: frontdesk@coresurgicalmd.com
Monday - Thursday: 9:00AM to 5:00PM
Friday: 9:00AM to 4:00PM
Saturday - Sunday: Closed