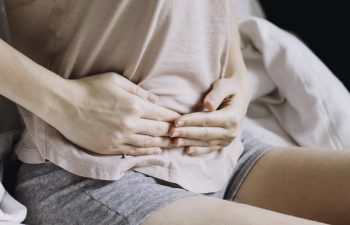 For at least the past 3500 years, athletes have been discovering strange, tender lumps on their bellies and groin and asking their physician for a solution. Left untreated, they may cause nausea, pressure or pain when coughing, as well as weakness and numbness. Every so often, the situation may even become critical, if the hernia becomes incarcerated or strangulated. Regardless of the circumstances, an informed decision must be made about the situation.
Doing Nothing is An Option
Hernias cannot heal without surgical intervention. However, there are times it is possible to delay the procedure. Mothers-to-be with small umbilical hernias may avoid the potential complications of surgery if their hernia doesn't bother them too much. In some cases, femoral or epigastric hernias in newborns are not large enough to require surgery and may be postponed until they're past infancy.
In adults, trauma to the flank may be minimal and not require surgery to mend, as long as it doesn't become incarcerated or develop complications. Waiting and watching is a workable option, but only under the supervision of an experienced hernia specialist. Under no circumstances should you try to use a corset or other trussing devices to deal with a hernia.
Laparoscopic Surgery
There are certain situations, as with an Occult hernia, in which Laparoscopic Surgery is necessary even to find a hernia, and then to repair it. A general sedative is administered, the abdomen is inflated, small incisions are made near the hernia and the surgery is completed using a camera and tools through metal rods, rather than manipulating the tissues manually.
Recovery time after this type of surgery tends to be shorter than with open surgery, while the patient also experiences less pain overall. Quite often, in both Laparoscopic and open surgery, a mesh implant will be placed in order to lend structure to the abdominal wall after the herniated tissues are replaced.
Open Surgical Repair
In some circumstances, general sedation is not desirable, and the procedure may be done with local anesthesia and by making an incision directly over the site to be mended. One of the other benefits to this type of repair is the increased range of motion for the surgeon since they aren't working Laparoscopically.
If you have a hernia, whether it's a recent growth or you've been dealing with it for some time, contact us at Core Surgical. We are hernia specialists who can assess your situation and aid you in making an informed decision regarding treatment.
Posted on behalf of CORE SURGICAL
133 E 58th St Suite 703
New York, NY 10022
Phone: (212) 628-8771
Email: frontdesk@coresurgicalmd.com
Monday - Thursday: 9:00AM to 5:00PM
Friday: 9:00AM to 4:00PM
Saturday - Sunday: Closed